Welcome to Living Waters Christian Centre (Lewisham Trust). We are pleased to announce that after careful review and prayer, our church is still open on Sundays for services which start at 11am. Our address is Honor Oak Community Centre, 50 Turnham Road, Brockley SE4 2JD. Even though the rules for covid-19 have been relaxed by the government, we are disinfecting the hall used by our church every Sunday and hand sanitisers are still being provided. Congregational singing has been reintroduced and refreshements after each service will soon be available.For more information on the changes being made, click here Covid-19 virus.
Our Prayer Meetings and Bible Studies take place weekly on Zoom. We have moved the days we meet from Tuesdays to Thursdays until further notice. This is create continuity and clarity as preparation for our Food Bank continues to take place on Tuesday evenings. See our calendar for specific dates and times.All our business meetings will continue to be on Zoom and we will do our best to publish this on our website. Please keep checking back for updates on what we are doing.
For those of you who are new to Living Waters... we are a friendly, muliti-cultural church situated in South East London who have a heart and passion for people. The virus may have placed restrictions upon us, but it will never prevent us from caring and doing our utmost to continue to spread the gospel of the good news in Jesus Christ.
If you would like to know more about Living Waters Christian Centre, would like to become a Christian or would like prayer, you may still contact us. The best way to do so is by email. Our email address is lwcc1uk@outlook.com.
Our Food Service was very active during the Covid Lock down. We operated on a weekly basis from Wednesday 16th April 2020 delivering food to those experiencing hardship. Since things have opened up and the emergency response is over, we are now providing a weekly service for our customers where they can come and safely collect their food. Please note that even though Social Distancing measures have been removed, the way we distribute food to customers will remain in place. This is to facilitate quick entrance and exit from the building. If you have Covid-19, you should not attend our Food Service.
Click below for opening dates. We open ealier to distribute food to those in need. We now officially open at 5:30pm and run till 7:15pm.
If you would like to volunteer, please contact us on lwccfoodservice@gmail.com and someone will get back to you. To receive or give food click here! For information on our revised opening dates for 2022 click here.
Members of our church can give comments and suggestions for any issue regarding our church whether it is outreach ideas, service ideas or new ministry suggestion etc. To do this, click on the link below and remember to tell us who you are so we can get back to you personally for clarity on your ideas or just to talk. click here.
Have you ever wondered what happens after you die? The Senior pastor of LWCC Mandeville Jamaica died and came back to life. Click here and follow instructions to read her story.
*** LWCC COMMUNITY DAY - SUNDAY 14TH AUGUST 2022 - LWCC would love for everyone to join us in a community day, a chance for us to meet people in the area and to have a good time. Join us for a lovely bbq, bouncy castle, games and more...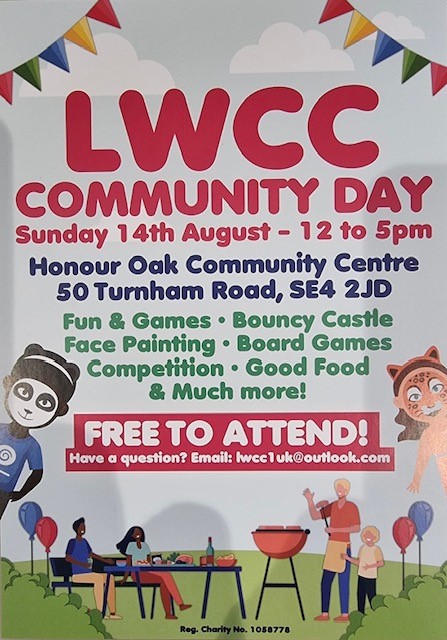 Lo